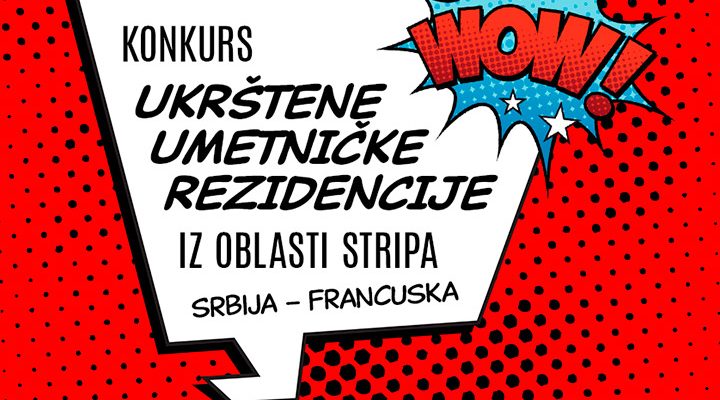 There was a press conference held in the French Institute in Serbia on Tuesday the 28th of January regarding the contest for Cross Art Residencies in the Segment of Comic Books between Serbia and France. Catherine Faudry, cultural attaché in the French Institute spoke about this programme, as well as Nemanja Rotar, a member of the city council in Pancevo in charge of culture and youth, a comic book author Sasa Rakezic and Monika Husar Tokin, director of Komunikart agency.
Catherine Faudry pointed out, in the name of the French Institute as the project initiator, that comic book as a nineth art has significant tradition both in France and in Serbia. "This is why French Institute in Serbia has been specially engaged in the enhancement of comic book art in both countries in the recent years. We would like to encourage the authors from Serbia to develop new forms of expression", she added.
Nemanja Rotar marked signing the international agreement as an "event of utmost importance", especially bearing in mind that France is a country where comic book art has a significant role at the scene of modern authorship. "This has not occured by chance. It is a recognition of our authors' work that lasts for decades, firstly Sasa Rakezic's (Aleksandar Zograf) work on establishing strong comic book scene in our city. This is what people from Pancevo are famous in the world for now. This is what makes one city a cultural center and removes the rural character of it", concluded Rotar.
Caherine Faudry mentioned that this contest is there for young authors from Serbia and France and the development of new talents. " Residential programme has three main goals. It represents support for creation in the area of comic books and graphic expression in a wider sense. In this fashion, this programme provides Serbian authors time and space to develop their works. What is more, the programme tends to promote unique styles, new trends in painting and narratives. For that reason this contest will be open for artists who express themselves in different media, regardless of that being a painting,  digital expression or multimedia. Finally, the residence is two-sided, as its goal is to be the platform for a meeting of different cultures, in these two countries and even wider."
Sasa Rakezic (alias Aleksandar Zograf) spoke about the importance of this type of programmes for the authors: " For comic book authors from Serbia it is of utmost importance to have a chance to improve their work and to compare their own experience with the authors from the other background. It is a good opportunity to do it in France, in the country where a special attention is paid to comic books, and in Angouleme, a town where the International Center of Comic Book and Illustration is located. That is a chance for our whole comic book scene to get a new uplift and for our authirs to be additionally supported in their efforts.
Monika Husar Tokin, director of Komunikart agency from Pancevo, in charge of the exchange of an author from Pancevo (Serbia) and Angouleme (France) as a partner of the project, pinpointed that both authors will have an opportunity to present in Serbia the works they have created during their residential stay: "There is the sixt Nova Festival in Pancevo in October, where we will present both projects as a part of specific exhibitional segment."
As a part of the Cross Art Residencies programme between Serbia and France, two  comic book projects will be supported in a form of artistic residency of the comic book author from Serbia in Angouleme (France) in June and July 2020, as well as French comic book author who will stay in Pancevo (Serbia) in October 2020.
The contest is open until February 23th, 2020 at midnight, and the names of the winners will be announced on the 6th of April 2020 on the French Institute Serbia website. The winner of the shcolarship from Serbia will stay in the House of authors in Angouleme and the works that are created during the artistic residency will be exhibited at the exhibition oranized as a part of Nova Festival in Pancevo in October 2020.
Detailed contest terms and conditions and the application form are available on the following website: http://www.institutfrancais.rs/konkurs-za-strip-rezidenciju/.
As a reminder, there was Cooperation Agreement in the Segment of Comic Books and Culture signed between Serbia and France as a part of French president, Emmanuel Macron's official visit to Serbia. The project of Cross art residency in the segment of comics between Serbia and France is the result of that Agreement and it proposes the establishment of the first comic book residency between the two countries in 2020.